Leaves management for all
Manage employee vacations & absence with multi-level approvals
Approval of remaining leaves
Creating leave types with leave validators
Approval of leaves by assigned leave validators
Separate menu item for approval requests
Manage employee leaves
Keep track of all your employees vacations
Keep track of the vacation days taken by each employee. Employees enter their requests and managers approve and validate them, all in just a few clicks. The agenda of each employee is updated accordingly.
Managers get a view of their whole team leaves in one complete view, to keep the team well-organized and to easily forecast the distribution of tasks during the absence of their members.
The challenge is to bring a company whose web presence is boring up to date. The challenge is to ensure that when a client visits your website they feel positive about your company. The challenge is that most customers will judge you based on appearance alone, and if your website looks unprofessional or poorly made then they will think your company as a whole is unprofessional. Each and every part of the organization matters when winning over a new client:
Approve or refuse leave requests:

Handle all requests from your employees

Allow employees to record their requests for vacation themselves, and get notified by email for every new request. Decide to either approve them or to refuse them, and add a note to your refusal to give an explanation to your employees.
Creating leave types with leave validators.
While creating leave types by enabling multiple level approval one can add leave validators.
Get reports to plan ahead
Simple reporting tool
Personal Dashboard
A great dashboard for employees to see their own account, managers for their teams, and administrator for the whole company.
Gantt Chart view
Get the planning of your whole team, for the day, week, month and year to get a clear overview of your team's availability.
Calendar view
Plan ahead and keep an eye on your team's availability for the day, the week and the month in a clear calendar.
Reports
Get stats on the number of leaves per capita, per department and per leave type, and export them in PDF in just a click.
Create reports in a single click for every leave request, with a detail per request type, employee, department and even for the whole company. Get statistics on the leaves and plan for the upcoming to make sure you keep productivity to its highest level.
Manage leave requests
Employee requests
Allow your employees to record requests themselves, and get notified for each new request.
Approve or refuse requests
Answer your employee requests in just a click. Use green button for approved and calculated leaves. Use grey button for pending leaves that will be managed later.
Add comment
Insert a note to your approval or refusal to add information for your employees.
Add allocations
Setup the quantity of leaves allocated per capita to allow your employees to record their leaves according to their allocation.
Customize leaves type
Create new leaves type for unusual situations.
Manage each level
Allow managers to handle requests for their own team and review each request yourself.
Validators for that Leave Type
While requesting leaves employee the validators for that leave type will be added.
Approval requests
Separate menu item for approval requests.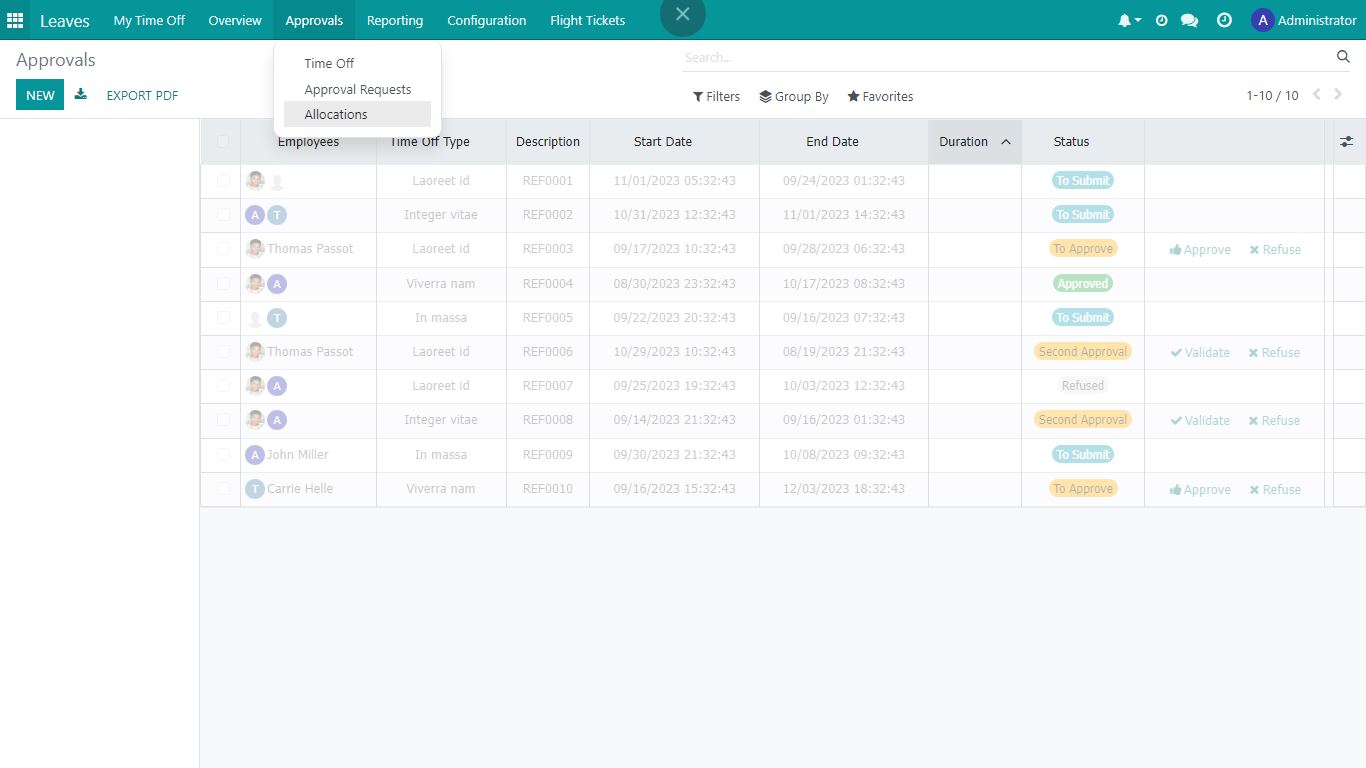 Approval Status
Leave validators can see the approval status and also write comments.
Approved State
Only after all the validators approve the leave request its state will be changed to approved.